Colour Emu Homepage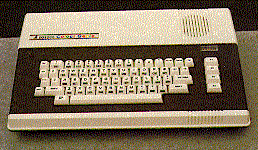 ---
Last update: 2.10.97
News...
2.10.97: No news is good news ;-)
14.6.97: After some problems, the mailing list is ready and working ! Thanks a lot to the UNIX group at our university ! To subscribe, write an email to listserv@unix-ag.uni-kl.de with the command "subscribe colourgenie" in the body (NOT the subject line) of the message. Join us now !
14.6.97: The ftp site is available now ! You can find the emulator as well as the tools and software on ftp://ftp.uni-kl.de:/pub/pc/dos/ColourGenie/. To upload new software, use ftp://ftp.uni-kl.de:/incoming/pc/ColourGenie/ and send us an email to inform us about you upload ! Or simply send the software directly to us via email.
11.6.97: The mailing list is ready. We will see if it works, and tell about how to subscribe afterwards.
4.6.97: We are going to have a mailing list as well as an FTP site from our university soon (should only take a few days) !
2.6.97: There is a new Colour Genie discussion forum, created by Jürgen Buchmüller.
2.6.97: We're going to add a new tool soon, written by Jürgen Buchmüller, which converts ASCII BASIC text to the Colour Genie format.
1.6.97: Colour Emu 3.0 is out !
New features of Colour Emu 3.0:

The emulator really works at original speed now !
Direct load of virtual tapes and snapshot files in the command line. This way you can start your favourite games by double-clicking on their icons in your Windows environment !
Comments are allowed in CAS- and SNP-Files now
New and much improved options menu with comfortable Load and Save menus
Improved configuration file; you can use comments in it, and tape and snapshot file directories are stored in the file.
And don't worry - all your old configuration, tape and snapshot files still work (which is not always the case in official software...) !
Reset function works much better now
Of course: a new and improved welcome tape :-)


1.6.97: The tools 3.0 are out !
1.6.97: Finally: Software Pak II is there !
Colour Emu 3.0
Colour Emu is an emulator of the Z80-based machine called Colour Genie, which was sold in the early 80's.
If you tried it with OS/2, could you tell us about your experiences ?
Download Colour Emu 3.0 (81kB) now !!
Here you can take a look at the original Colour Genie keyboard layout.

Colour Emu requirements:
Minimum requirement:
8086/88 CPU
VGA card
MS-DOS or compatible (works with Windows 3.1x, 95)
252 kB free disk space
For best results, you should own...
486/66 CPU
Adlib card, or better, a Sound Blaster card (for noise production)
additional 207 kB free disk space for the tools
additional 1124 kB free disk space for the virtual tapes on the web site
Colour Emu features
Original speed
Quick load of programs (command line option or via the options menu)
Virtual Tape system (works with CSAVE/CLOAD/SYSTEM), which allows comments in the tapes
Automatic tape I/O recognition
Snapshot files, comments also allowed
Music and sound effects (with improved noise generation)
Tools for reading and writing old tapes via the Sound Blasteron web page
Configuration file
Text and graphics mode emulated
Two different kinds of keyboard emulation; a comfortable one for writing text, and a simple one for playing games
Reset function
A special display style that is very close to the original one
Redefinable characters
Print register contents of CPU, graphics and sound chips
Welcome tape :-)
Online help


Tools 3.0 for the Colour Emulator !
We developed some tools for reading Colour Genie tapes directly into the PC.
You can convert VOC-files to virtual tapes (CAS-files) and analyse them afterwards. Moreover you can send CAS-files to the original Colour Genie via the Sound Blaster directly.
As a brand new tool, we added COMMENT, which you can use to add descriptions to your virtual tapes and snapshot files.
Download the tools (101kB) now !
Software Pak I update
What good is an emulator without software ? Thanks to everyone who sent software to us, especially Alexander Drawe and Jürgen Buchmüller.
You can view the index file first, or download Software Pak I (392 KB !) right away. Enjoy !
The software package already includes the comments. If you have already downloaded it and want to safe network traffic, just download the comments (18 kB) and insert them with the COMMENT tool.
Software Pak II
More great software: Download Software Pak II (135 kB) or view the index file first ! Again the files already contain the descriptions. If you want to change them, the original comment files (7kB) may be helpful.
Plans for the future...
Test the emulator with a lot of software !
Add disk support
More tools...
Nice stories concerning Colour Emu...
When we tried to read the Colour Genie ROM, we connected the machine to the PC using the Sound Blaster. Our mechanism worked in the way that we used the time between two signals as a code. A short time was seen as a binary 0, a long time as a binary 1. The sound that was produced this way was somewhat unmannerly. Moreover, it took us a couple of hours to transfer the 16kB ROM - but it worked ! :-)
In the development history, more and more features were added to the emulator. Still the binary file kept getting smaller with every new version (up to version 2.1) ! Maybe version 5.0 will be just about 20kB :-)
Think about it - a 16 colour (text mode) resp. 5 colour (graphics mode) machine called a colour genie...
When writing the welcome tape of Colour Emu 3.0, we tried to have a loop counting the seconds. This was done easily by trial and error, using the loop FOR B=1 TO x:NEXT. The actual time parameter x we found worked best was x=486 ! Of course this was only the case on a 486 PC :-) !
Thanks to...
Marat Fayzullin for writing the Z80 emulator (especially the CPU cycles !)
Jürgen Buchmüller for his emulator and for providing the picture with the keyboard layout
Harald Bögeholz for writing about the Colour Genie in the c't magazine (nice screenshot :-) ) and of course for Colour Kong...
Markus, for providing an old TV set (nice & red)
All the people who sent software
The UNIX group of the university of Kaiserslautern for providing the mailing list server
The RHRK of the university of Kaiserslautern for the ftp-server directory
Interesting links...
CGenie, the Colour Genie emulator by Jürgen Buchmüller
Emulator list of the newsgroup comp.emulators.misc
Burkhard Lehner Homepage
Stephan Scholz Homepage
HELP WANTED !
If you have any technical information, magazines, tapes, books etc. about the Colour Genie, we'd be glad to hear from you !
At the moment we are especially looking for software to test the emulator.

Send us your feedback - write to sscholz@student.uni-kl.de or b_lehner@informatik.uni-kl.de.

Visitors since May '97 :